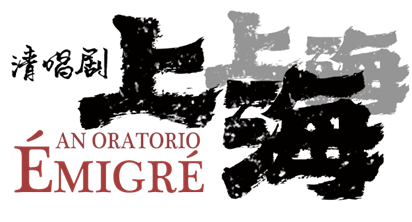 Maestro Long Yu, Shanghai Symphony Orchestra (SSO) and the New York Philharmonic (NY Phil) today [6July] announce the co-commission of Émigré, a new oratorio by award-winning composer Aaron Zigman, with lyrics by Pulitzer Prize winning librettist Mark Campbell and songwriter Brock Walsh. The work will be premiered on 17 November 2023 at the Jaguar Shanghai Symphony Hall before its US premiere on 29 February 2024 at David Geffen Hall at Lincoln Center in New York City. The work will be recorded by Deutsche Grammophon in live and studio sessions in the context of the world premiere performance and is due to be released in February 2024.
In the late 1930s, over 30,000 Jews fled to Shanghai to escape the Nazis in Europe after Kristallnacht, with 16,000 taking refuge in the city, arriving shortly after China had recently suffered the atrocities of the Japanese occupation and the Nanjing Massacre. Zigman's new work – a 90-minute oratorio – tells the story of two Jewish brothers who arrive in Shanghai as refugees in 1938 and go on to navigate their new life and seek a home and community there. The work is sung in English with minimal visual and production elements. The cast for the November premiere will feature Ben Bliss and Arnold Livingston Geis as the two brothers, plus Shenyang, Zhang Meigui, Andrew Dwan, Zhu Huiling and Diana Newman, the same cast that will be performing it in New York, where Long Yu will be conducting the NY Phil for the US premiere.
Following the premiere, the Shanghai Symphony Orchestra will perform the oratorio at the 2024 Beijing International Music Festival and the Deutsches Symphonie-Orchestra Berlin (DSO) will perform the work in 2024. Hong Kong Philharmonic Orchestra will perform the work in 2025 and further international performances including the UK will be announced in due course.
Long Yu, Music Director of the Shanghai Symphony Orchestra, said: "In the flood of history, we cannot avoid the changes in social circumstances and human destiny, but the light and goodness of humanity is a flat boat that never sinks. She can pierce the darkness and carry the destiny of humanity and the continuity of history, sailing towards a bright and hopeful future. I am proud to be sharing this important work, brought to life by Aaron and Mark, and to be conducting the world premiere performance and the Deutsche Grammophon recording of the piece."