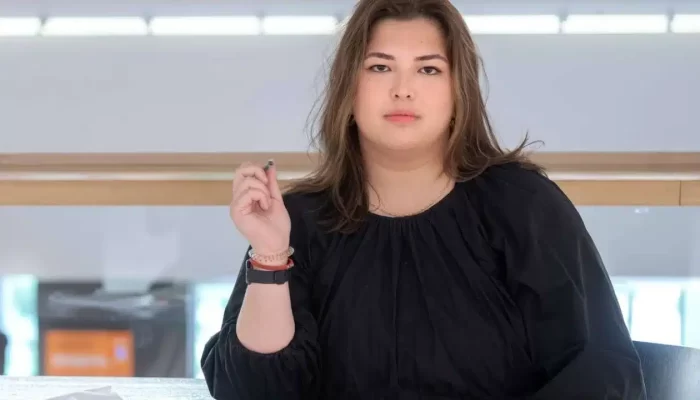 Review by Arifa Akbar, The Guardian
This slow but searing monologue begins as a girl-meets-boy romance which might be a meet cute if the tone were not so sombre. He is a poet, aloof and intriguing, she is a receptionist, instantly drawn to him. "I don't believe in love at first sight but I feel like I'm falling …"
Written by Ava Wong Davies and performed by Sabrina Wu as Nina, it is delivered as a direct address to the absent other and also a kind of interrogation which builds to expose abuse at the heart of this relationship.
Directed by Anna Himali Howard with Izzy Rabey, it progresses in small, slow, steps, from first meeting into only half expressed control and violence as a way of revealing how microaggressions accrete to something far bigger and darker. "Can you report him?" asks her friend when Nina tells her about it. "And say what?" she thinks, which lies at the crux of such coercive control.
Conceptually, it is a clever idea to structure the play this way – as a slow reveal – but the gradual buildup and many ellipses hold back the drama and pace. The script trawls across seemingly small details and observations which make much greater sense in hindsight but leave the momentum wavering.
As an anatomy of intimacy, there are a few too many poised descriptions of the couple stroking each other. These lead to scenes of conflict but because they are only half spoken we do not feel the full impact.
Wu's delivery is powerful and she holds us gripped but there is little movement on stage other than a circling of the room, sitting down here or there. Mydd Pharo's set is an attic bedroom with skylight and bed, expressionistic around its edges with mounds of muddy earth. There is a chilling moment when the bed comes to look like a fresh grave but on the whole it stays as little more than a visual pun – of the filth of a relationship hidden in its corner.
British Chinese identity is touched upon as well as class disparity: he is rich and the play shows, vividly, how money becomes a manipulative tool in his control disguised as generosity.
The script sounds almost novelistic in its language, beautiful at times. It is clear that Wong Davies is a delicate and thoughtful writer and there is daring in telling this explosive story so quietly.