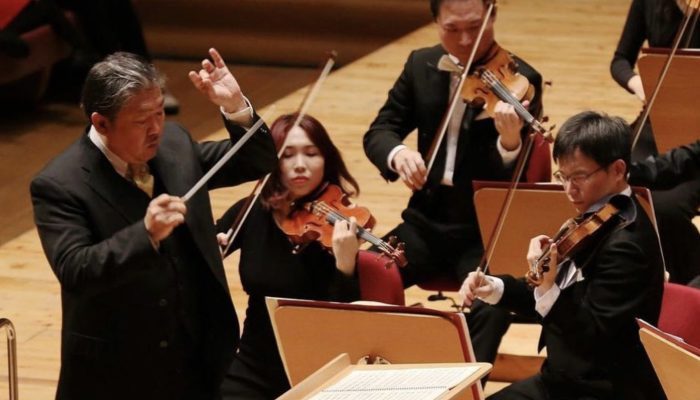 It's a night of reunion. It's a night of ecstasy. It's a night of triumph.
Music Director Maestro Long Yu – 余隆 was back on the podium last night. The full force of the orchestra was at his disposal in two firsts by Brahms: Piano Concerto No. 1 in the first half and Piano Quartet No. 1 orchestrated by Schoenberg in the second half of the sold-out concert.
Chinese pianist Haochen Zhang, whose recording of Beethoven's piano concertos was released to great critical acclaim, returned to Shanghai for two concerts with our orchestra in two piano concertos by Brahms as if he was conducting an autopsy on the greatest concertos in the piano music's literature. After three curtain calls he encored Brahms Intermezzo in E flat major, and received a bouquet of flowers from a lady sitting in the first row.
Long Yu simply brought the house down to his feet in the final movement of the Piano Quartet No. 1. The hall, quite full under maximum capacity allowed, was radiant with excitement. One could feel the vibe when Long Yu dropped his hands as the last note faded. A burst of applause followed immediately. A gracious conductor, Long Yu bowed, deep, firm while steady, to the front and to the rear, to a generous audience.