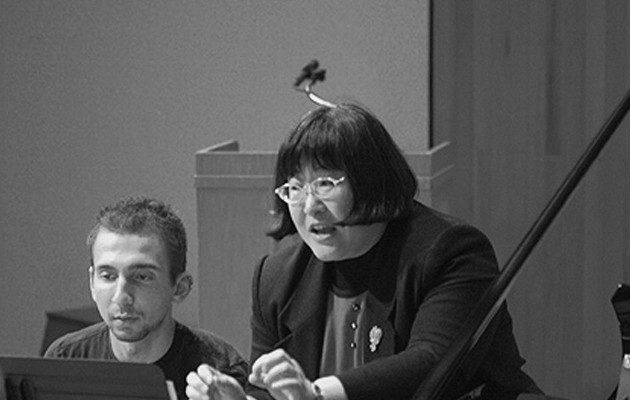 A prolific composer, Chen Yi blends Chinese and Western traditions, transcending cultural and musical boundaries. She holds a BA and MA in music composition from the Central Conservatory of Music in Beijing and received her DMA from Columbia University. She was elected to the American Academy of Arts and Sciences in 2005.
Yi's music has been commissioned by Yehudi Menuhin, Yo-Yo Ma, the BBC and symphonies the world over. She has received fellowships from the Guggenheim Foundation and the National Endowment for the Arts, and more than a dozen awards and honours, including a Grammy in 1999 for her composition 'Teldec'.
Yi has blazed a trail for female composers. She was the first woman to receive a master's degree in composition in China when, in 1986, she gave a concert of her orchestral works with the Central Philharmonic of China. She was also the first woman to give a multimedia orchestral concert in the US when she performed the 'Chinese Myths Cantata' with an orchestra, choir, traditional Chinese musicians, dancers and image projection.
Her most recent premieres include 2007's 'Three Bagatelles from China West' for flute and piano at Carnegie Hall; a song cycle called 'From the Path of Beauty' for Chanticleer and the Shanghai String Quartet in 2008; and 'Septet', a mixed ensemble piece for Prism Saxophone Quartet and Music From China.