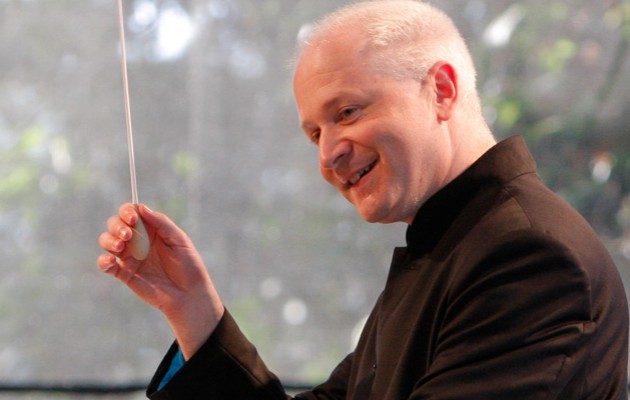 George Benjamin is one of the outstanding composers of his generation. Born in 1960, Benjamin started to play the piano at the age of seven, and began composing almost immediately. In 1976 he entered the Paris Conservatoire to study with Olivier Messiaen (composition) and Yvonne Loriod (piano), after which he studied under Alexander Goehr at King's College Cambridge.
His first orchestral work, Ringed by the Flat Horizon, was played at the BBC Proms when he was just 20; since then it has achieved a remarkable international performance record, as have his two subsequent works, A Mind of Winter and At First Light. Antara was a commission from IRCAM to celebrate the 10th anniversary of the Pompidou centre in 1987, and Benjamin was offered 'Carte blanche' at l'Opéra Bastille in 1992. The premiere of Sudden Time was given at the first Meltdown Festival in 1993, followed by Three Inventions for Chamber Orchestra at the 75th Salzburg Festival in 1995.
The LSO and Pierre Boulez gave the world premiere of Palimpsests in 2002 to mark the opening of the LSO's season-long retrospective of his work at the Barbican, 'By George", a project which also included the premiere of Shadowlines played by Pierre-Laurent Aimard. In recent years there have been numerous other major retrospectives of his work, including Brussels (Ars Musica, 2003), Tokyo (Tokyo Opera City, 2003), Berlin (DSO, 2004–05), Strasbourg (Musica Festival, 2005) and Madrid (Spanish National Orchestra, 2005).
The centrepoint of a large-scale portrait at the 2006 Festival d'Automne in Paris was his first operatic work, Into the Little Hill, a collaboration with the English playwright Martin Crimp which has been greeted with international acclaim. He has accepted the fourth Roche commission, which resulted in Duet for piano and orchestra, which was premiered during his tenure as composer in residence at the 2008 Lucerne Festival.
He has built up a close relationship with the Tanglewood Festival in America since his first appearance there in 1999. As a conductor he works with some of the world's leading ensembles and orchestras, amongst them the London Sinfonietta, Ensemble Modern, the BBCSO, the Cleveland, San Francisco and Concertgebouw orchestras and the Berlin Philharmonic.
In 1999 he made his operatic debut conducting Pelléas et Mélisande at La Monnaie, Brussels and he has conducted numerous world premieres, including important works by Wolfgang Rihm, Unsuk Chin, Grisey and Ligeti.
George Benjamin lives in London, and is the Henry Purcell Professor of Composition at King's College, London. He was artistic consultant to the BBC's three year retrospective of the 20th Century music, Sounding the Century, and was invited to become an associate artist at London's South Bank in 2006. He was made a Chevalier dans l'ordre des Arts et Lettres in 1996 and was elected to the Bavarian Academy of Fine Arts, only the fourth time such an honour has been bestowed on a British composer. In 2001 he was awarded the Deutsche Symphonie Orchester's first ever Schoenberg Prize for composition.