Music in the Summer Air Festival 2011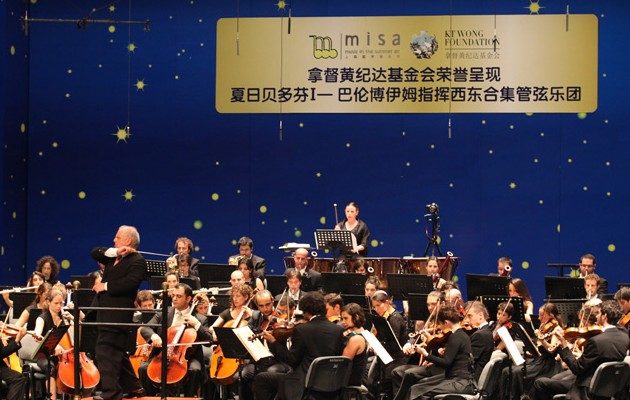 The 2011 Music in the Summer Air Festival (MISA), co-chaired by Maestros Long Yu (Music Director of the Shanghai Symphony Orchestra) and Charles Dutoit (Music Director of the Royal Philharmonic Orchestra), was held at the Shanghai Culture Square and the Shanghai Oriental Art Center from July 31st to August 13th.
As well as traditional classical works, the 2011 MISA offered performances of Jazz and contemporary music in a diversified program.Highlights of the festival included; the Chinese premieres of Gulda's Cello Concerto and Piazolla's "Las Cuatro Estaciones Porteñas", performed by Long Yu and Vera Tsu; maestro pianist Pogorelich's Chinese debut; a Beethoven series by the West-Eastern Divan Orchestra led by Daniel Barenboim; a rare performance of cello and guitar showpieces by the duo of Jian Wang and Xuefei Yang; Liszt's first piano concerto played by Yundi and the Royal Philharmonic under the baton of Charles Dutoit; Berlioz's "Les nuits d'été" sung by Ying Huang; and the "Nightingale of China".Other highlights included a cross-genre performance by the Shanghai Symphony in collaboration with jazz musicians from Amsterdam, as well as a hugely anticipated performance by Zuying Song, the most prominent vocalist in mainland China. Li-Wei Qin, the Canzone Trio, Changyong Liao, Daye Lin, the Macau Youth Symphony Orchestra, and young musicians from mainland China, Taiwan, Hong Kong and Macau were also on the guest list.
Become a Foundation Member
Sign up to receive exclusive offers, along with previews of our collaborations and event inviations.