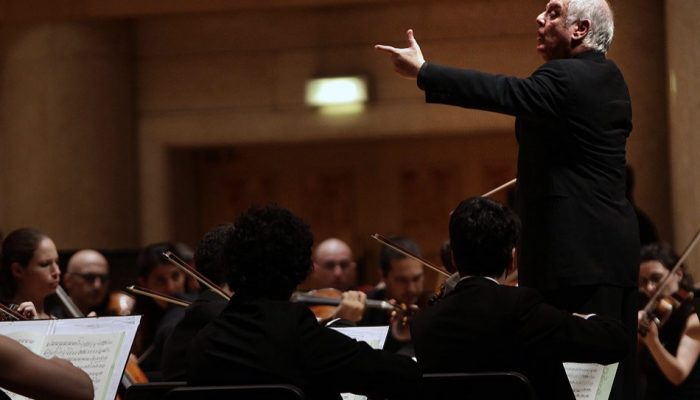 Born in Buenos Aires in 1942, Sir Daniel Barenboim studied piano under his father and gave his first public concert at age seven. In 1952 the family moved to Israel and at the age of 10, Barenboim debuted as a solo pianist in Vienna and Rome, followed by concerts in Paris, London and New York, where he played with Leopold Stokowski. In 1954 he began his recording career as a pianist, going on to record with Otto Klemperer and Sir John Barbirolli.
Since his conducting debut in 1967 with London's Philharmonia Orchestra, Barenboim has been in great demand with leading orchestras around the world. He debuted as an opera conductor in 1973 and between 1975 and 1989 was principal conductor of the Orchestre de Paris, followed by a stint as music director of the Chicago Symphony Orchestra. He is also Maestro Scaligero at La Scala.
In 1999 Barenboim and Palestinian literary scholar Edward Said set up the West-Eastern Divan Orchestra, which brings together young musicians from Israel and Arab countries. In 2005 the orchestra performed in the Palestinian city of Ramallah.
Barenboim has been awarded the Hessische Friedenspreis, the Goethe-Medal, an honourary doctorate from Oxford, the Légion d'Honneur and the Royal Philharmonic Society Gold Medal. His pubished writings include 'A Life in Music', 'Parallels and Paradoxes' with Edward Said, 'Everything' and 'Dialoghi su musica e teatro: Tristano e Isotta'.