The West Eastern Divan Orchestra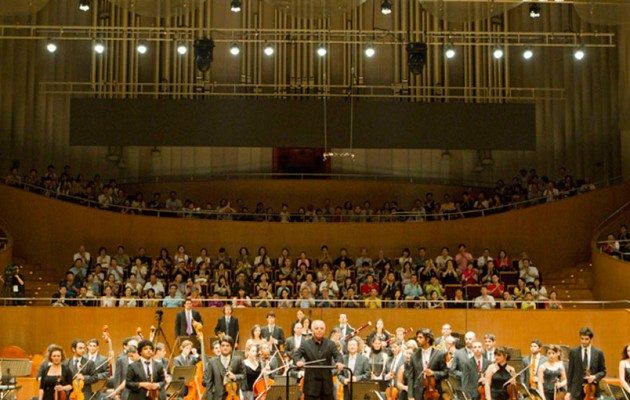 In 1999 Daniel Barenboim and the late Palestinian literary scholar Edward Said were invited by the Kunstfest Weimar to create a workshop for young musicians from Israel, Palestine and other Arab countries, aimed at enabling intercultural dialogue. They named the resulting orchestra after Goethe's collection of poems 'West-Eastern Divan'.
WEDO's first sessions took place in Weimar and Chicago. In 2002 it found a permanent home in Seville. It has performed in most European countries, the Americas and the Middle East. In 2003 the orchestra played in Rabat, Morocco, and in 2005 performed in Ramallah, Palestine. Concert highlights include performances at the Hagia Eirene Museum in Istanbul, the Salle Pleyel in Paris, Berlin's Philharmonic Hall, Teatro alla Scala in Milan, Carnegie Hall in New York and at the General Assembly Hall of the United Nations. The orchestra has also appeared at the BBC Proms and the Salzburg Festival.
Become a Foundation Member
Sign up to receive exclusive offers, along with previews of our collaborations and event inviations.