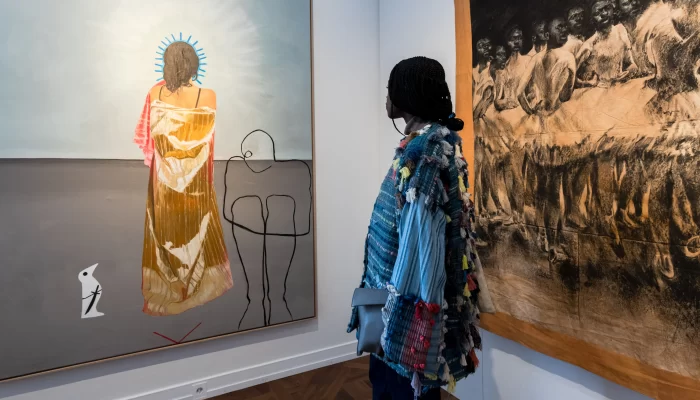 Celebrating its 10th anniversary in London, 1-54 Contemporary African Art Fair is delighted to return to Somerset House with its flagship edition over the course of four days from 13 – 16 October 2022 (Press & VIP Preview on 13 October). 1-54 London 2022 will host 50 international exhibitors across 21 countries, its largest number of countries to date !
Of the 50 international exhibitors, 16 galleries are from the African continent, and 14 galleries will participate at the fair's London edition for the first time. Newcomers to the fair include albertz benda (New York, USA), Berntson Bhattacharjee Gallery (London, UK), Galleria Poggiali (Milan, Florence, Italy), Portas Vilaseca Galeria (Rio de Janeiro, Brazil), Selebe Yoon (Dakar, Senegal), and Unit London (London, UK), among others.
New and returning exhibitors will present over 130 artists working across an array of mediums from painting and sculpture to mixed media and installation. Works from established artists such as Ibrahim El-Salahi, Hassan Hajjaj, and Zanele Muholi to young and emerging artists including Sola Olulode and Pedro Neves will be on view.
1-54 London 2022 will be accompanied by a range of special projects and events, in addition to 1-54 Forum, the fair's multi-disciplinary programme of talks, screenings, performances, workshops, and readings which will be curated by Dr Omar Kholeif. The full programme will be announced at a later date this Summer.