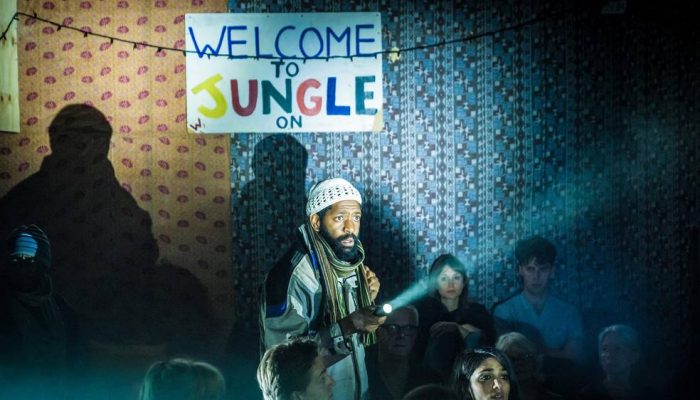 The Jungle review: Evening Standard Arts – "Courageous show is a tribute to hope and a sobering reminder" ✮✮✮✮✮
The velvet guts of the West End's Playhouse Theatre have been ripped out for this raucous, passionate show, which takes us inside the infamous Calais Jungle. Miriam Buether's design places a large chunk of the audience in a makeshift Afghan restaurant that's one of the more cheering features of this multinational migrant camp — and as the actors stomp along elevated plywood walkways, there's a sense of a community bristling with energy, anger and resilient humanity.
The play, originally commissioned by the National Theatre and appearing here after a sold-out run at the Young Vic, is the work of Joe Murphy and Joe Robertson, who in 2015 created the Jungle's Good Chance Theatre. They've translated their experience into something challenging and uncomfortable — not the definitive story of the camp, but a series of vivid snapshots.
Directed by Stephen Daldry and Justin Martin, it's performed with both urgency and wit. Ammar Haj Ahmad's warmly engaging Safi guides us through the chaos, and among the most compelling figures around him are cranky chef Salar (Ben Turner) and John Pfumojena's teenage Okot, a tormented refugee from Darfur.
Their intensity is matched by several laughable yet often laudable Brits: Dominic Rowan's self-important Derek, Rachel Redford's painfully callow Beth, and Alex Lawther's twitchy Sam. It's Sam who best sums up their well-meaning cloddishness when he jokily describes the camp as 'Glastonbury without the toilets' — overlooking the fact that people at musical festivals generally get to go home afterwards.