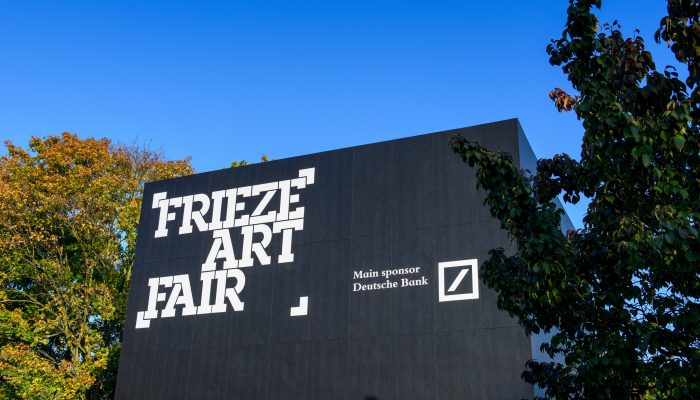 The 16th edition of Frieze London takes place from 5–7 October, with two Preview Days on Wednesday 3 October and Thursday 4 October
Announcing eight pioneering artists featuring in new Social Work section; nine interactive and performance-based works for Live; and a new Emerging Artist Prize in collaboration with Camden Arts Centre
Frieze London 2018 will showcase the best of international contemporary art, with a discerning selection of around 160 galleries presenting their most forward-thinking artists and imaginative presentations. Opening for the first time with a two-day Preview, Frieze London coincides with Frieze Sculpture and Frieze Masters in The Regent's Park, together forming the most significant week in London's cultural calendar. Global lead partner Deutsche Bank supports Frieze London for the 15th consecutive year, continuing a shared commitment to discovery and artistic excellence.
New collaborations with international curators, institutions and galleries will respond to contemporary issues – from the lack of visibility of women in the marketplace to hidden systems of communication and control – and create an exceptional environment for creativity and discovery.
This year's themed gallery section, Social Work will feature women artists who challenged the status quo and explored the possibilities of political activism in their art making during the 1980s and '90s, from Nancy Spero in the US toBerni Searle in South Africa to Ipek Duben in Turkey and Helen Chadwickin the UK.
Solo, group and curated presentations across the fair's sections will feature John Baldessari, Michaël Borremans, Zadie Xa, Lubaina Himid, Mary Kelly, Moshekwa Langa, Calvin Marcus, Jim Shaw, David Shrigley, Josh Sperling, Tatiana Trouvé, Hardeep Pandhal, Athena Papadopoulos, Faith Ringgold, Wong Ping and Cathy Wilkes, among many others.
Part of Frieze Projects, the Live platform will stage performances and interactive installations throughout the fair, exploring hidden formulas which impact wider social, political, and economic realities, such as Liz Glynn's interactive dance performance, responding to live data at the fair; Julia Scher's roaming security guards and surveillance installation; and Pratchaya Phinthong's exchange of counterfeit currency, revealing the value that politics places on people. In an enclosed space within the fair, Frieze Artist Award winner, Alex Baczynski-Jenkins will continue his choreographic practice engaging with queer relationality and the politics of desire, intimacy and friendship.
Frieze Talks will explore the role of autobiography in art with international participants including Laurie Anderson, Nan Goldin, Kemang Wa Lehulere and Olivia Laing.
New Curators
Diana Campbell Betancourt joins the fair to curate Frieze Projects,spanning artworks beyond the booths including Live, Film and the Frieze Artist Award. In addition, Andrew Bonacina (Chief Curator, The Hepworth Wakefield) and Laura McLean-Ferris (Curator, Swiss Institute, New York) will advise ambitious shows by emerging galleries from across the world inFocus. And Matthew McLean (Senior Editor, Frieze Studios) and Lydia Yee(Chief Curator, Whitechapel Gallery, London) will co-programme Frieze Talks.