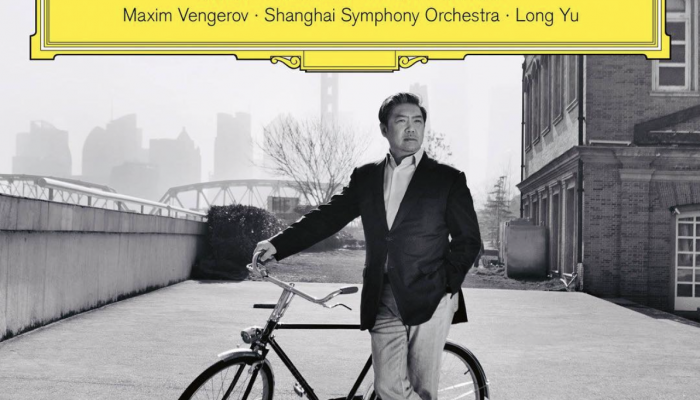 The Shanghai Symphony Orchestra may be China's oldest, but it is marking its 140th anniversary with a thrilling new beginning. Recently signed to Deutsche Grammophon, the SSO and Music Director Long Yu are launching a series of albums featuring works by major Chinese composers. Gateways, the first album, will be released on 28 June 2019 and contains two works by Qigang Chen, as well as Rachmaninov's vibrant Symphonic Dances and Kreisler's delightful Tambourin chinois. It features Maxim Vengerov as soloist.
"140 years is a very long time for any orchestra," says Long Yu, who has been at the helm of the Shanghai Symphony Orchestra for the last ten years. Its 1879 founding makes the SSO three years older than the Berliner Philharmoniker. Yet the SSO and Long Yu's new Deutsche Grammophon release is at once a celebration of its long history and a glance forwards, thanks to the presence of two works by the renowned contemporary composer Qigang Chen.
The violin concerto La joie de la souffrance (2017) is cast in a single movement. Qigang Chen wrote the work for a large orchestra with a substantial percussion section, and his orchestral writing is colourful, like that of his teacher Olivier Messiaen, yet also gracefully melodic. Maxim Vengerov's solo part is highly challenging: the work was used as a competition piece, accompanied by the SSO, in the Shanghai Isaac Stern International Violin Competition in 2018 – the year after Vengerov and Long Yu had premiered the piece together.
Wu Xing (The Five Elements, 1998-9) evokes the character of the five traditional Chinese elements in five interrelated movements: water, wood, fire, earth and metal. Long Yu praises the "incredible imagination" on display in this piece, and how the composer "reveals his feelings about Chinese philosophy in music."
Qigang Chen, born in 1951, won a national Chinese composition competition in 1983, which resulted in his travelling to Paris to study with Messiaen – he would be the legendary French composer's last student. One of the most frequently performed living composers, Qigang Chen lives in Paris and is a Chevalier de l'Ordre des arts et des lettres. He was music director of the 2008 Olympic Games Opening Ceremony in Beijing and is also known for several film scores, including Coming Home with Lang Lang and The Flowers of War with Joshua Bell.
Qigang Chen's two compositions are complemented by one of those Russian works that are so popular in China: Rachmaninov's Symphonic Dances. Premiered in Philadelphia in 1941, it is the composer's final composition, and its colourful and virtuosic score, through written far from his home country, abounds in memories of Russia – an orchestral showpiece of the first order brilliantly suited to the SSO. Fritz Kreisler's Tambourin chinois completes the album, with Vengerov returning for another joyously virtuosic number.
One of the finest violinists of his generation, Maxim Vengerov began his international career in his teens by winning several prestigious competitions. Since 2012 (when he returned to violin playing after an enforced absence of over four years induced by a shoulder injury) he has conducted as well as played violin, and he continues to perform with leading orchestras internationally.
Long Yu is a leading figure in Chinese musical culture; in addition to his role as Music Director in Shanghai, he holds positions with the China Philharmonic, the Guangzhou Symphony and the Hong Kong Philharmonic. But it is with the Shanghai Symphony Orchestra that he will embark on a major tour this year, visiting destinations in both Europe and the United States. It is a fitting celebration for this 140-year-old orchestra, and one that points towards a bright international future.