Handel's message for the modern world
Lady Linda Wong Davies
Wednesday, April 28, 2021
Why the rarely-heard oratorio La Resurrezione is a perfect project for our times
I set up the KT Wong Foundation 13 years ago with the mission of celebrating the very best contemporary art forms of the East and West through collaborative cultural projects. My pervading passion has always been baroque music, and Handel in particular – one of our very first major projects was co-producing Semelewith the Theatre La Monnaie in Brussels with the major avant-garde Chinese artist Zhang Huan commissioned to design and direct it. It was a gamble but became a huge success and then travelled to Toronto, New York (BAM), Beijing and Shanghai. In that sense 13 years on our mission still hasn't changed – to foster mutual understanding and to bring projects to fruition that would never otherwise have the chance to happen, and of course also to keep celebrating the work of my favourite composer!
Our collaboration with Sky Arts for a new production of La Resurrezione was born out of a desire to bring some hope and optimism at this time, when things have felt very bleak for the arts across the entire world. This project was conjured up in my head in the tropical heat of Malaysia – extraordinary to think that even in 35 degree heat Handel's music can prevail! I felt so strongly that La Resurrezione was the perfect work – aptly marking the coming of spring, a fresh resurgence of new life and possibilities, and hopefully also a new beginning for the arts following what has been an extraordinarily difficult time.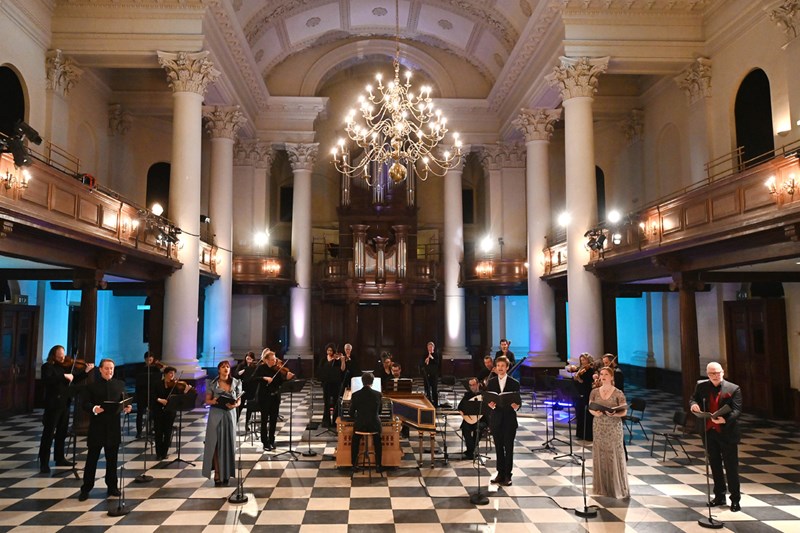 Harry Bicket and a hand-picked cast of soloists performing Handel's La Resurrezione (photo: Mark Allan)
We were thwarted at lots of turns, with many of the organisations and venues we initially approached unable to overcome the obstacles of Covid-related regulations for staging a live work, but we persevered and luckily Sky Arts loved the idea. We were able to use some of my favourite singers – the incredible Lucy Crowe, Danielle de Niese, Lawrence Zazzo, Hugo Hymas and Brindley Sherratt – with Harry Bicket and The English Concert doing a fantastic job with very little rehearsal. Harry also took on the task of editing the piece to a logical length for television, while still keeping the strong narrative of the Easter story. These artists live to perform, and watching these musicians come together to make music again was such an extraordinary feeling for everybody involved.
Philanthropy now, more than ever, is so important to help beleaguered artistic houses and organisations and I'm so thrilled that we've been able to create this project – which has provided much-needed paid work for these artists, some of whom haven't performed for over a year. It's important for philanthropic institutions to choose very carefully the projects they support and we try very hard to stay true to our original mission statement of promoting Handel's music and always thinking about the longevity of every project. I hope that with this production we've created the possibility of taking it to other places – at a time when the pandemic and Brexit make large-scale touring very difficult, with a smaller ensemble and a very powerful message and music, my hope is that this project can have a longer life than just this broadcast.
The pandemic affected every aspect of the planning of this project. For us it was smaller-scale than many of the other projects we've embarked on – concerts at the Forbidden City for example – but in the time of Covid every small detail had to be considered in myriad ways. What we've achieved I hope is something beautiful, that will give audiences a sense of optimism for the future – and what could be more hopeful than seeing these wonderful musicians performing this extraordinary and very rarely heard piece of music?
Handel's La Resurrezione will be broadcast on SKY ARTS on Monday May 3, at 7pm