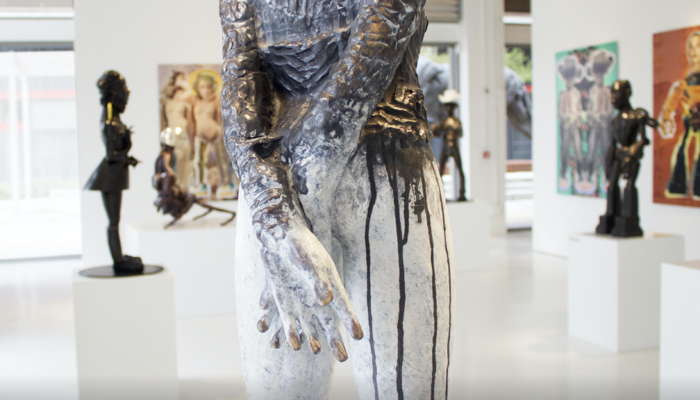 Four years after her acclaimed 2016 solo Tainted, Justine Mahoney opens Mage, her new body of work delving into the tangled web of transformation from adolescence to adulthood. Her second solo exhibition with Southern Guild, this new group of nine bronze sculptures and collages coincides with the 2020 Investec Cape Town Art Fair and Cape Town Art Week.
Based in Cape Town, Justine is a figurative sculptor working in bronze whose cadre of hybridised characters, antiheroes and archetypes present an alternative mythology for our times. Her figures emanate from her own imagination and experience, brought to life through a range of visual references that is encyclopaedic in scope – encompassing vintage science fiction films, Neo Classicism, '80s magazine and pop culture, children's toys, traditional African sculpture, erotica, graphic novels and snapshot photography. A voracious collector of ephemera and digital imagery, Justine begins her process by making photo collages that stitch together these contrasting worlds.
"Personal myth-making" is how she describes her work. She says: "Stories are a vehicle to help us through the lessons and trials of life. Their wisdom can guide us through the terrain of initiation. My most recent work, however, seeks to embrace the totality within – the darkness and imperfection together with the light."
Many of the works in Mage are transgressive, tracing the dialectical forces that the artist has witnessed in her own adolescent daughters, but which she sees in all of us – power and vulnerability, desire and self-protection, broken-ness and healing.
In this sense her latest group of characters take after the protagonist Ged in author Ursula Le Guin's fantasy novel A Wizard of Earthsea. Ged is a mage (a witch, wizard, magician or sorcerer) who struggles with a shadow creature released by himself during a magical duel. The coming-of-age book was a major influence on Justine as a child.
Justine approaches each body of work as a progression. Her first collection, Innocence, dealt with the both the playfulness and terrors of childhood while her second series, Tainted – a sell-out success – traversed themes of identity related to early adolescence. Mage enters more ambiguous territory, exploring the transition from adolescent to adult.
She notes: "I want to capture the transformation of growing up. There is pain in letting the veil of innocence fall, but there is majesty and self-mastery in embracing all that we are too."
Born in Johannesburg in 1971, Justine matriculated from the Johannesburg School of Art, Ballet, Drama and Music, and gained her National Diploma in Fine Art from the Technikon of Witwatersrand in 1991. Drawing inspiration from the disparate realities of growing up during some of the most tumultuous decades of Apartheid, she is deeply influenced by her childhood experiences. She has exhibited her work all over South Africa and at international fairs such as Design Miami, Design Miami/Basel and The Salon Art and Design in New York.