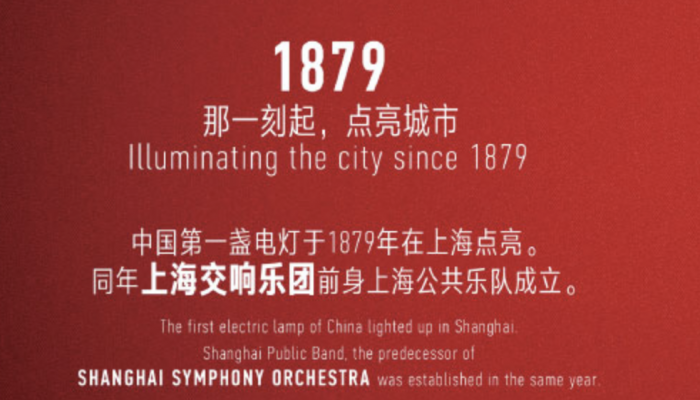 The Year of 2019 has marked the beginning of the Shanghai Symphony Orchestra's 140th Anniversary Year. The last 140 Years has been a legend that keeps spinning for more than three centuries, a story of Orchestra's integration with the city of Shanghai, a story that has taken roots and blossomed in China.
For the past 140 Years Shanghai Symphony Orchestra has experienced the upheaval periods and several historical turbulences. And only because of the great dedication of the musicians, it went through ups and downs and all the difficulties without any interruption or stagnation. It witnessed the journey of New China and embraced the magnificent era with the global horizon of Chinese artists.
From 1879 to 2019, as a professional institution, Shanghai Symphony Orchestra was the first orchestra in China to widely introduce symphonic music to Chinese audience. It is the very first orchestra to perform Chinese orchestral works, the first to cultivate Chinese musical talents, the first to perform on many world class stages such as Berliner Philharmonie Hall, Carnegie Hall, Lucerne Festival and others. It is also the first orchestra to sign an exclusive worldwide recording deal with the Deutsche Grammophon. These all achievements has been another proof of our Orchestra's slogan "Music Connecting Worlds".
During the past 10 years, Shanghai Symphony Orchestra followed the world class vision and international orchestra structure. It developed and initiated different projects such as professional Music Season, Music in the Summer Air (MISA) Summer Festival, Shanghai New Year's Concert, Shanghai Isaac Stern International Violin Competition, Shanghai Orchestra Academy, Shanghai Symphony Hall, Shanghai Symphony Orchestra Museum and many other brands and multiple international platforms that explored, leaded and developed our industry throughout the country.
We are thankful to the leaders , our community, our general public and all our music fans for their enthusiasm and full support that helps our orchestra to remain youthful and energetic. "We may be old but we are young! "
Standing at the starting point of this historical 140th year for our orchestra, we ensure to continue our musical journey. We respect and cherish the long history of our orchestra and together with the professionalism and spirit of the Shanghai Symphony Orchestra's people we remain international in outlook and continue marching forward courageously for our supporters and beloved audience.