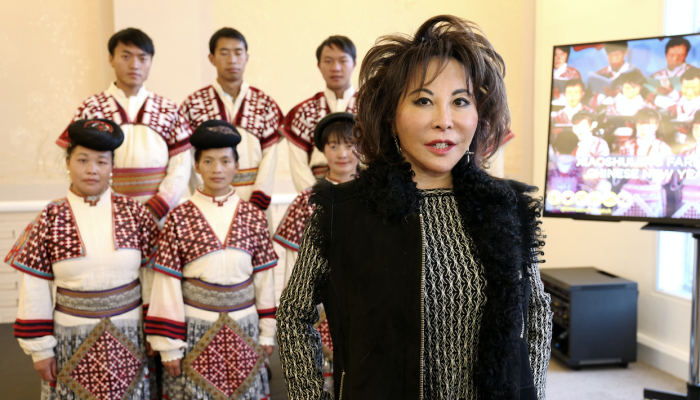 Lady Linda Wong Davies with the acclaimed Xiaoshuijing Farmer's Choir at China Exchange as part of their first ever international tour.
The choir, which is 50 members strong, will perform pieces from Handel's Messiah and traditional Yunnan folk songs, in an uplifting performance to ring in Chinese New Year. Established in 2002 in the mountains of Southern China, Xiaoshuijing Farmers' Chorus, led by choirmaster Guangyuan Long, comprises of farmers from the Miao ethnic minority based in the village of Xiaoshuijing in Yunnan Province.
The choir has toured throughout China and has collaborated with international ensembles, including the Russian Philharmonic Orchestra. Since its inception, the choir, which performs in dress indigenous to Fumin county in Yunnan, has received widespread recognition across China. Among its numerous awards are first prizes in the inaugural China Western Choral Festival, First Yunnan Nie Er Music Week, First Kunming Nie Er Cup Chorus Festival, and the National Farmers' Chorus Festival in Guangzhou. They have performed at prestigious venues, including Beijing's National Centre for the Performing Arts, the Central Conservatory of Music, and also appeared at UNESCO's Humanity Photo Awards 2011, the Opening Ceremony of the second Nie Er Music Chorus Week in Shanghai Grand Theatre, the Beijing Television Spring Festival Gala, and the Shanghai Spring International Music Festival. 2018 the choir will perform internationally as part of major Chinese New Year celebrations, including concerts at New York's Lincoln Center and the Royal Festival Hall.