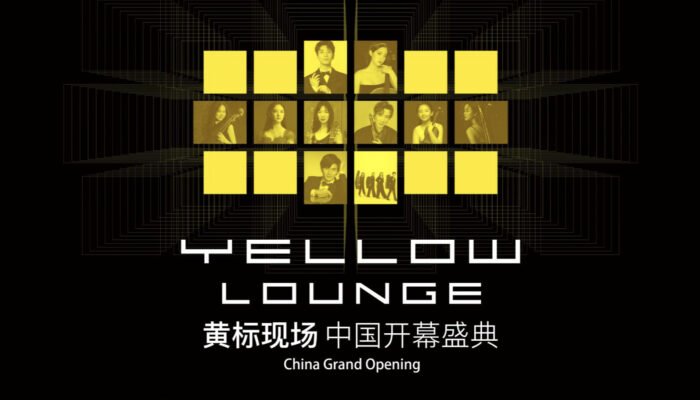 Outstanding young performers and the next generation of classical music fans are set to meet in Shanghai when Deutsche Grammophon's global classical club night initiative, Yellow Lounge, establishes a new permanent base in the city. Yellow Lounge China will launch on 20 December 2020, on the eve of the project's twentieth anniversary, and will follow the strikingly successful formula that has brought classical music into eclectic urban venues worldwide with a mix of live performances and DJ/VJ sets.
Shanghai's classical clubbers will be treated to a showcase of top talent drawn from Greater China. Future editions of Yellow Lounge China will also feature such global classical stars as Daniil Trifonov, Andreas Ottensamer and Víkingur Ólafsson, once international touring resumes.Having grown from a landmark partnership between Universal Music China, the Shanghai Symphony Orchestra (SSO), the distinguished Chinese conductor Long Yu and Deutsche Grammophon, Yellow Lounge China will be housed in the Blackstone complex, an urban site redeveloped as a musical hub close to Symphony Hall in Shanghai's historic French Concession. Yellow Lounge China is supported by the Artistic Engagement Program China (AEP-China) jointly founded by Volkswagen Group China and the Shanghai Symphony Orchestra.Chinese audiences discovered the Yellow Lounge experience as part of Deutsche Grammophon's 120th‑anniversary programme in 2018/19, when the combination of great artists and alternative, intimate performance spaces – already a proven winner everywhere from Berlin and London to New York and Sydney – captured their imagination.
Thousands of young people flocked to China's first, one-off Yellow Lounge club nights and tens of millions watched them online, drawn to the unique atmosphere and gripped by performances from Daniel Hope, Yuja Wang, Andreas Ottensamer,Rafał Blechacz, Bomsori Kim and Peter Gregson.Dickon Stainer, President and CEO of Universal Classics and Jazz, welcomes the latest extension of the Yellow Lounge initiative: "I'm delighted to see Yellow Lounge find a new home in Shanghai as a result of some excellent teamwork between Universal Music China, Deutsche Grammophon and the Shanghai Symphony Orchestra and Long Yu. I know this new venue will inspire innovative and vibrant music-making by talented young artists from China and around the world.""In China, you find not only a deeply felt interest in the country's own centuries-old musical traditions, but also fantastic enthusiasm and energy for western classical music," adds Dr Clemens Trautmann, President Deutsche Grammophon. "We saw that clearly during the course of DG's anniversary celebrations in 2018/19 with the introduction of Yellow Lounge events and a globally televised concert in Beijing's Forbidden City. Building on that success, we are happy to underline our commitment to the young generation of classical artists. The concept of Yellow Lounge, originally invented in Berlin and adopted across the globe, has lost none of its fascination in the twenty years since its introduction.
We thank Long Yu for his relentless and creative engagement as well as our esteemed colleagues at Universal Music China and partners at the Shanghai Symphony Orchestra, Askonas Holt and Volkswagen China."Sunny Chang, Chairman and CEO, Universal Music Greater China, expresses his support for the venture: "The launch of Yellow Lounge China shows UMG's strategic commitment to fostering young musicians and new repertoire. The Shanghai club nights will showcase both established stars and rising talents as well as attracting new fans to classical music in its widest sense. My thanks go to all our partners for the time and passion they have invested into bringing our plans to fruition – Yellow Lounge will add an exciting new strand to musical life in China."     Garand Wu, Managing Director, Universal Music China, cites the importance of past collaborations with the Shanghai Symphony Orchestra and Long Yu as part of a broader vision for classical music in China. "Maestro Yu and the SSO have achieved great things, as their Live from the Forbidden City and Gateways albums for Deutsche Grammophon prove," he says. "That is set to continue with Yellow Lounge China, which represents a significant advance in the development of young Chinese classical artists and their audiences. It has been a joy to work on this project with our colleagues and partners. We wish a long life to Yellow Lounge China and look forward to hearing the many wonderful artists who will shape its future."Exclusive DG artist Long Yu, acclaimed for his work in China and on the international stage, will serve as Yellow Lounge China's ambassador and curator. "Every musician knows how important it is to encourage the next generation of classical performers," the conductor observes. "But it's also vital to create a new audience and make young people feel at home when they come to a concert. Yellow Lounge has transformed the way classical musicians connect with their audiences over the past twenty years. I am delighted to see Yellow Lounge China come to Shanghai and look forward to welcoming many more young people to our classical club nights. I'd also like to express my personal thanks to Askonas Holt for working in close partnership with Universal and playing such a key role in mentoring our young artists."Yellow Lounge China gets underway at 7.30pm local time on 20 December.
Internationally renowned classical guitarist Xuefei Yang will open the programme in company with Lu Yiwen, a virtuoso performer on erhu, better known in the West as the Chinese violin. Their set includes the exquisite "Fisherman's Song by Moonlight". The show continues with the slow movement from Mendelssohn's Piano Trio in D minor Op.49, performed by pianist Serena Wang, violinist Paloma So and cellist Namisa Sun, before Daniel Hope joins the party online to play Elgar's "Salut d'amour" with Pianist Niu Niu. Vocalist Cai Cheng Yu then performs his first single, "The Light Beyond", with Xuefei Yang and Serena Wang, leaving clarinettist Wang Tao and the SSO's MagnoliaQuartet to close the evening with Mozart's Clarinet Quintet. Most of these performers are still in their teens, a fact that highlights Deutsche Grammophon's commitment to supporting the next generation of classical musicians.