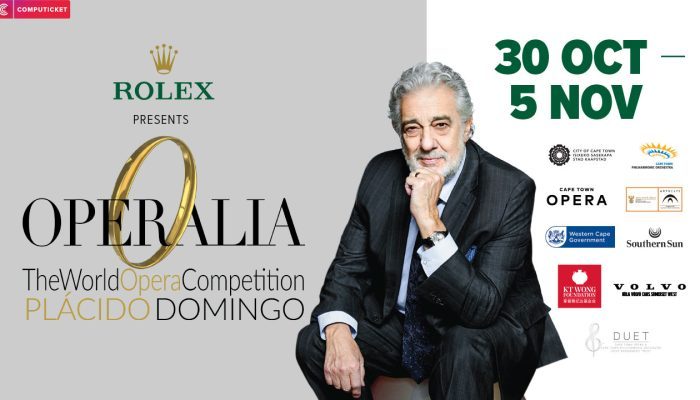 With the first members of the Operalia team arriving this week from New York, the excitement is building up. The media conference with Maestro Domingo is attracting great attention, and seats for the two quarter finals on October 30 and 31 and the semi-finals on November 1 are running out. There are tickets for the finals available from Artscape Dial-A-Seat 021 431 7695 and on the Computicket website and please don't be tempted to buy on anything but those sites. As usual, there are companies that inflate prices.
The timeframe is tight with all the contestants who arrive over the preceding weekend scheduled for special coaching before the first rounds, and ongoing coaching in between. The semi-final round will be streamed on the Operalia facebook page. The fleet of Volvo cars, supplied by Rolo Volvo in Somerset West, are being polished; the students at UCT, UWC, Cape Town Opera and the CPO and choristers from the CPO Afri-Arts choir are grateful to Lady Linda Davies of the K T Wong Foundation who has made it possible for them to attend.
Even though the final round will be streamed on Medici.tv, there's nothing like being on the spot, seeing history in the making as some young singers head for an international career. Remember, you would have seen it here at Artscape first!
Please keep an eye on our social media – there was a super video with Luvo Maranti last Friday in which he tells us what it means to him.
We are delighted to welcome the KT Wong Foundation as a sponsor of young people and students to attend the preliminary rounds and finals of Operalia.
The KT Wong Foundation aims to foster a mutual understanding between China and the rest of the world, through collaborative cultural projects presenting the best of the East and West to each other. The Foundation therefore acts as a catalyst and sponsor for innovative creative ventures that bring together artists in disciplines such as opera, horticulture, architecture, fashion and costume design.
Established by Lady Linda Wong Davies, the Foundation has been involved in other South African events such as the Investec Art Fair. With collaborators such as Lang Lang, Barenboim and the West-Eastern Divan Orchestra, the Foundation is considered to be a pioneer and the leading cultivator and producer of cultural collaboration and exchange between East and West,
For Lady Davies, who spends several months a year in Cape Town, investing in students and young singers in Cape Town is close to her heart.